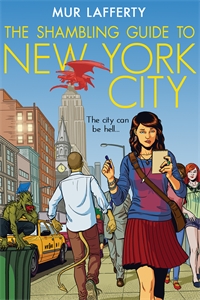 I already had this on my TBR list when I was lucky enough to win a copy on a Goodreads giveaway. Urban fantasy is a relatively new genre for me, but it's fast becoming one of my favourites.
Zoe Norris is forced to return to her home town of New York after the break-up of a bad relationship. She is a book editor, so when she sees an advert for a job editing a travel guide to the city, she applies. It transpires that this will be a guide for the supernatural and paranormal denizens (known as the coterie) of New York, creatures who up until this point Zoe hadn't known existed. She will be the only human working on a staff which includes vampires, zombies, and a death goddess. Not all her colleagues welcome her presence.
The balance between humans and the coterie is carefully preserved. Most humans are blithely unaware of the coterie, and the coterie are monitored and controlled by an organisation called Public Works. But now it seems as though someone is deliberately sabotaging this balance, which could have catastrophic consequences.
This is the first in an intended series of Shambling Guides and as such there was quite a lot of explanation to get through establishing the world in which Zoe finds herself. I thought this was done in a very light and easy way - I didn't feel like I was just having a load of exposition dumped on me. It's a humorous, fun book. Between each chapter is an extract from the guidebook Zoe is editing; for example this on mid-town architecture,
While the humans will be checking out the Apple Store for expensive computers and gadgets, we encourage any visiting coterie to stop and admire its all glass structure. It is actually crystal, and was built by a race of apini demons native to the southern US.
If you enjoy Ben Aaronovitch's Peter Grant books I'm sure you will enjoy this. I'm certainly going to look out for more books by Mur Lafferty, and I'm looking forward to the next in this series.